Toy Room Makeover with FrogTape
All summer long, I obsessed over the color kelly green.  I love its beautiful boldness, and I wanted it in my home.  However, it just did not work with my neutral decor palette.
I spent months trying to figure out where I could add it, and one day the perfect space dawned on me – the kids' playroom!
The playroom was painted a pale green but is separate from the rest of my house.  It was time to kick that green into high gear without worrying about it not fitting with the rest of my home's neutral colors.
Before I began painting, I began by prepping the room with FrogTape®.
Besides offering several different widths, FrogTape® offers a tape specifically for delicate surface as well as their classic, multi-surface tape.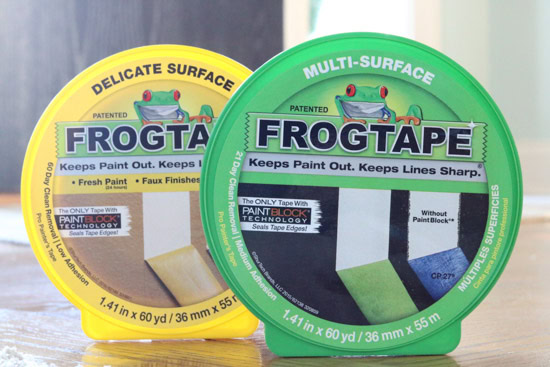 The yellow delicate surface FrogTape® was used on the wallpapered wall.
And it was also used on the chalkboard wall.
The result was crisp paint lines and no damage to my wallpaper or chalkboard.
I used the green multi-surface FrogTape® on all the other areas – mainly the trim.
FrogTape® brand painter's tape is the only painting tape treated with patented PaintBlock® Technology. PaintBlock® reacts with the water in latex paint and instantly gels to form a barrier against paint bleed giving you the sharpest paint lines possible – which is especially important with my bold color choice!
This space is constantly evolving as the kids get older.  I want this room to be fun and inviting.
The green adds an entirely new life to everything.  The colors seem more vibrant and toys more fun.
I also love the green next to the black and white frames wallpaper.
I would love to know – what color are you currently obsessing over?  Are you brave enough to cover an accent wall with that color?
Find me on Facebook | Instagram | Twitter | Pinterest
*This post contains affiliate links and is a sponsored post by FrogTape®. I take pride in reviewing only products that fit my brand and will be beneficial to my readers. And while this post is sponsored, all the opinions are my own.