With three kids and all the time I spend in my laundry room, I decided it was time for a laundry room makeover.
Below is a before photo of my laundry room.  Between the green cabinets and lack of natural light, it was a dark space.
And here is the brighter (and much happier) after!
For $200, here's what I did:
Painted the cabinets
Removed cabinet doors and painted their interiors
Updated the cabinet hardware
Hung fabric on the wall
Painted the faucet
I painted the cabinets using Amy Howard At Home One Step Paint.  The cabinets were painted in Linen and the inside of the open cabinets were painted in Vintage Affliction.  I'll be sharing the tutorial for painting the cabinets soon!
The hardware was updated with Hickory Hardware. The knobs are Hickory Hardware's 1-1/4 In. Tranquility Veneti Bronze with Light Almond Cabinet Knob.
The drawers all have Hickory Hardware's Cup Pull.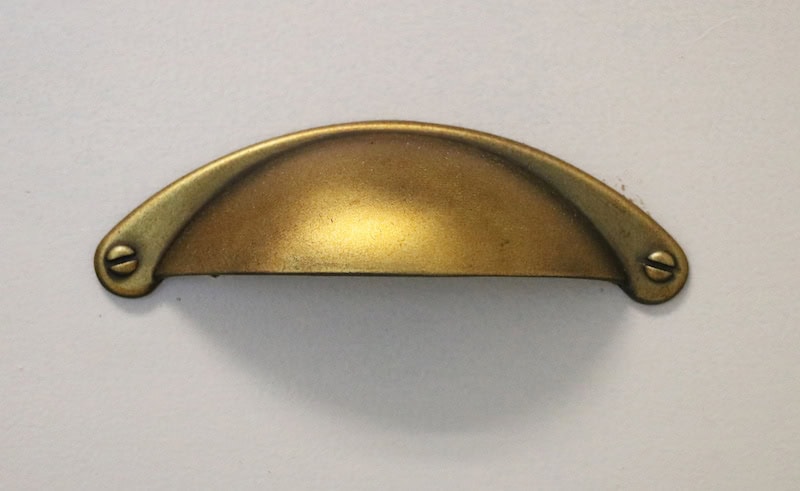 I added fake boxwoods and storage baskets to the open cabinets.  I also put my laundry supplies in cute glass containers I found on Amazon.  I spray painted the lids gold, and here are the affiliate links:
I painted my faucet to match the cabinet hardware.
And my favorite update is the fabric wall.  I used liquid starch to hang it, and you can see the full tutorial HERE.
Do you think my $200 was well spent?  Maybe now I won't dread laundry quite so much!
Find me on Facebook | Instagram | Twitter | Pinterest
*This post contains affiliate links and is a sponsored post through Amy Howard at Home and Hickory Hardware. I received compensation in the form of product in exchange for my review. I take pride in reviewing only products that fit my brand and will be beneficial to my readers. And while this post is sponsored, all the opinions are my own.
SIGN UP: WEEKLY DIY DECOR IDEAS
Subscribe to receive weekly DIY decor ideas AND receive a FREE copy of my Painting Furniture eBook which includes detailed tutorials!