Thank you First Alert for sponsoring this post. First Alert 10-year sealed battery alarms offer hassle-free protection that helps keep your home and family protected for a decade! #LiveWithA10
We moved into our home five years ago, and there were only two smoke alarms in our home – one on the first floor and one on the second (and our home is fairly large).
Our home is an older home, so standards were not what they are today. I have changed the batteries several times in the alarms, but it has taken me until now to add a few more alarms to our home.
My family's safety is incredibly important to me, so it is crazy I have waited this long to add new alarms. However, I am excited about the new smoke alarms I added – they are the First Alert 10-year Smoke & Carbon Monoxide Alarms.
The 10-year sealed battery alarms offer hassle-free protection to keep my home and family protected for a decade. No more late night low-battery chirps (why does it always happen in the middle of the night?) and no more replacing batteries!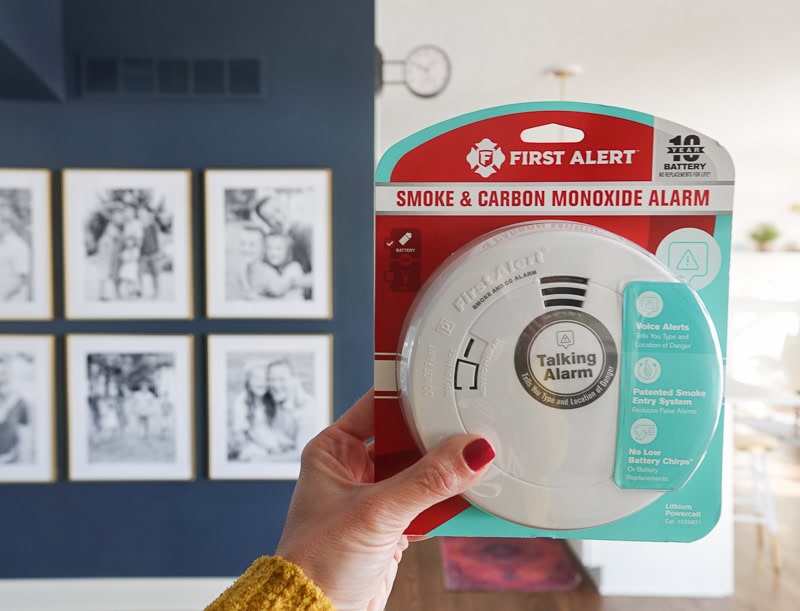 This two-in-one alarm also alerts us if there carbon monoxide presence in our home. I no longer need the plug-in carbon monoxide alarms!
Installing a First Alert Smoke Alarm is really easy, and I am a picture person so I will walk you through the easy steps with photos.
How to Install a First Alert Smoke Alarm:
Hold the mounting bracket again the ceiling or wall so the two clusters of mounting holes are aligned approximately at the 9:00 and 3:00 o'clock positions. Chose one set of the holes and trace around the holes (make sure to trace the mirrored image on the opposite side).
Drill a hole where you just traced and insert the plastic anchors using a hammer. Install the screws but don't tighten completely.
Attach the mounting bracket by aligning the screw and rotate the bracket into place. Tighten the screws until they are snug but don't over tighten them.
Write the date of installation, and there is no need to worry about this alarm for another 10 years (we will almost be an empty-nesters by then)!
Mount the alarm to the bracket to activate (you will rotate the alarm to fit). Once unit is activated, it cannot be turned off.
This alarm will have an end-of-life warning letting you know when it is time to replace it.
Installation really is easy, and I also added another alarm to my boys' room.
The alarm in their room is also a combo alarm – smoke and carbon monoxide. However, it also has a voice alert: 10-Year Combination Smoke & Carbon Monoxide Alarm with Voice Alerts. The alarm will tell you the type and location of danger in your home.
My next plan is to add more of these alarms to every bedroom in our home and plan and practice an escape route with my kids – especially because their rooms are on a separate floor than mine.
Protect your family with 10-Year Combination Smoke & Carbon Monoxide Alarms and Live with a 10!