Installing a Farmhouse Sink
We recently remodeled our kitchen and installed BLANCO'S IKON 33 APRON sink in white.
If you're not familiar with my blog, we recently finished our DIY kitchen remodel.  You can follow that process from the very beginning by going here.
This was our sink before, and the cabinets were an "L" shape which really restricted traffic flow.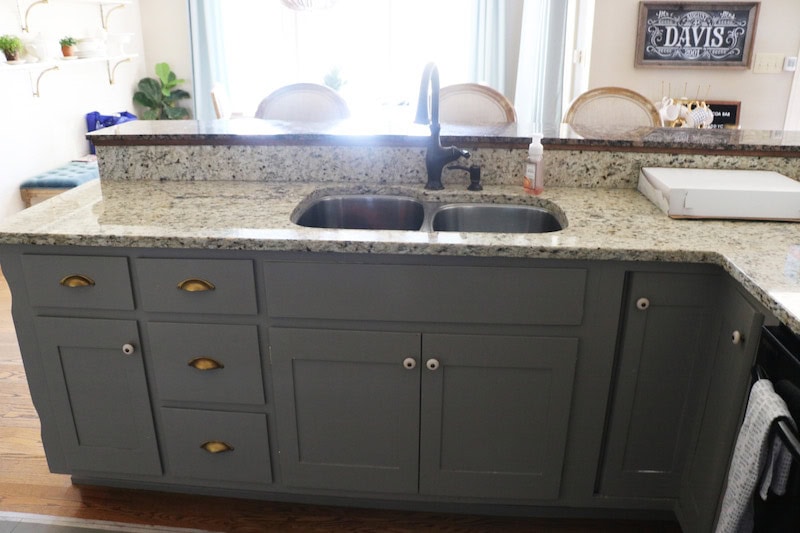 We replaced those cabinets with an island (which opens up the space) and added a gorgeous farmhouse sink from BLANCO.
The kitchen design plan included a farmhouse sink without us realizing all that goes on behind the scenes when installing one.
This is the sink cabinet we assembled.  For a traditional sink, the counters typical support it.  However, a farmhouse sink needs to be installed before the counters.  My husband and I looked at our base and sort of scratched our heads for a bit…
After a ton of online research (blog posts and youtube videos) and conversations with an engineer friend, Steve felt confident to tackle this project.
He created a table support using 2x4s.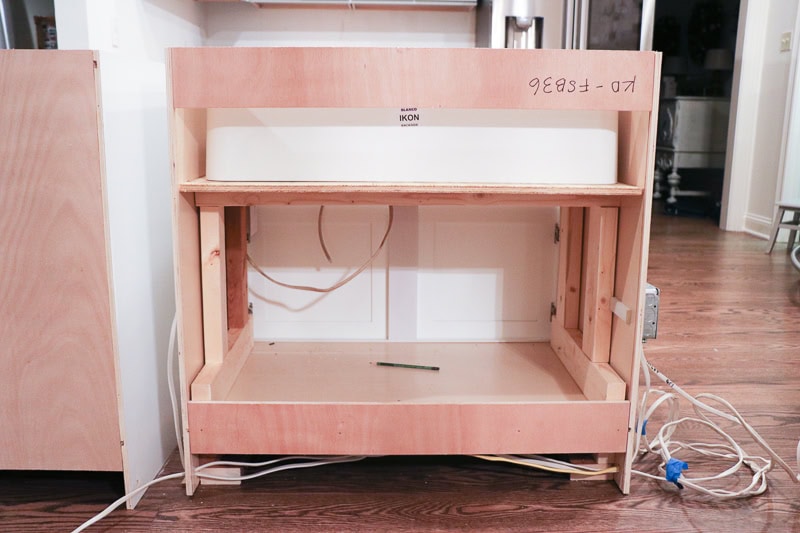 We also had to cut the front of the sink.  This was stressful because we had one shot.  BLANCO sent a stencil with the sink which helped us know exactly where the stencil should be and marked it.  Then we went back over it with masking tape and marked it again (luckily we could see our line through the masking tape).  The masking tape helps with a sharp, clean cut.
Steve used a jig saw to cut the front of the cabinet.
After the cabinet front was cut, we sanded and sanded for the perfect fit.
Unfortunately I ended up sanding a little crooked, but Steve was able to fix my mistake.
All the building and cutting and sanding was worth the effort because our sink is absolutely gorgeous!
The BLANCO IKON is the first apron front sink made of natural granite composite, SILGRANIT material.
This material will not scratch or stain, and is hard-wearing while being easy to clean.
The sink comes in both in 30 and 33 inch options as well as four colors – anthracite, cafe, metallic gray and white.
For increased functionality, there is also the optional Floating Grid available.  It handles the weight of pots and pans and can also be used as a trivet on the countertop.
Thanks so much to BLANCO for their partnership on this kitchen remodel.  Our farmhouse sink is the centerpiece of the remodel, and we fans of BLANCO.  We recently made over our laundry room, and you can see all the details on that HERE!
Find me on Facebook | Instagram | Twitter | Pinterest
*This post is a sponsored post by BLANCO.  I take pride in reviewing only products that fit my brand and will be beneficial to my readers. And while this post is sponsored, all the opinions are my own.