I am in the middle of a month-long laundry room makeover with Blanco.  Blanco makes unique luxury sinks, faucets and decorative accessories.
I was so excited for the opportunity to partner with Blanco because our laundry room sink and faucet is a complete mess.  It's definitely been well used…
This mess will be replaced by Blanco's Liven sink  in anthracite and Blanco's Artona Faucet in stainless finish/anthracite.
When we first moved into our home, the cabinets were dark and the laundry room was became home for decor items I didn't know what to do with.
Then early last year, I updated the space for only around $200.  I painted the cabinets and added fabric to the wall.
Our space continues to evolve and time goes by.  We are in the middle of preparing for a large kitchen renovation.  Part of the plan is to remove the wall that our piano sits against…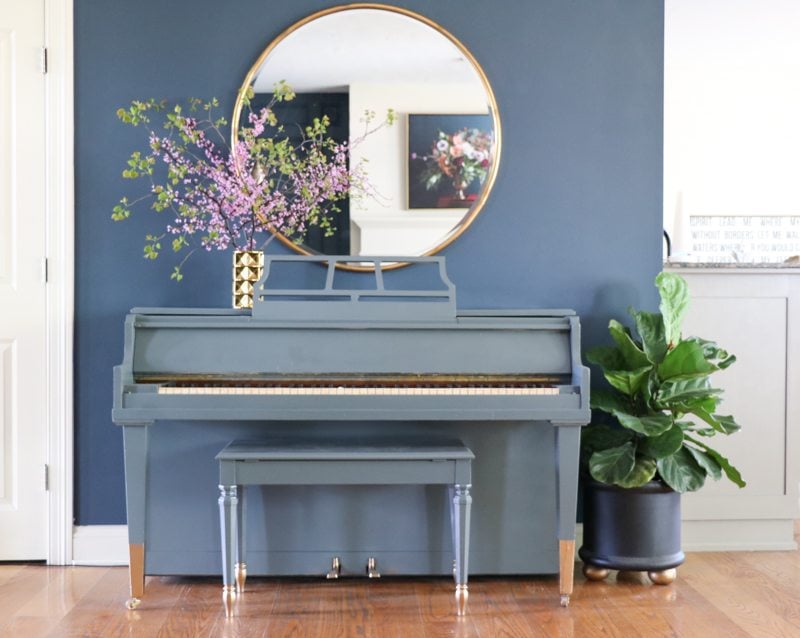 We will have to move the piano to my office…
Which means my desk will have to go – and I've lost my home office.
I really don't spend much time working on at my desk or desk top (I mainly use my laptop), but I still want a dedicated office space.  So, the laundry room will include my home office.
There's a desk in the space that I've never shared because it's never looked good, but that's about to change!
On the other side of my laundry room is a built-in desk in 90's green.  It has a lot of potential, and I'm excited to make the space my new home office.
Stay tuned – I'll be sharing more soon!
Find me on Facebook | Instagram | Twitter | Pinterest
*This post is a sponsored post by Blanco. I take pride in reviewing only products that fit my brand and will be beneficial to my readers. And while this post is sponsored, all the opinions are my own.